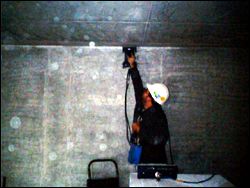 GPRS provides both underground utilities detection and concrete scanning services to a wide variety of clients across the US. With a national network of technicians and locations in or near every major city in the continental United States, GPRS is equipped to handle projects of any size. No job is too big, too small, or too far away for us! We are proud to serve the following market segments:
GPRS works with a variety of contractors, including construction site managers, electrical and mechanical contractors, and general contractors to improve the safety record and working conditions on the job site.
We work with engineering firms to deliver a comprehensive picture of project areas and existing structures in combination with our field services and the implementation of computerized aided design (CAD) mapping services.
GPRS partners with environmental consulting firms in our detection of underground storage tanks.
GPRS serves facilities management groups to ensure the quality of construction, preserve the integrity of facilities during construction, and promote a safe environment for the communities surrounding facilities such as hospitals, universities, retail locations, and manufacturing plants.
We are proud to work with homeowners as you embark on renovations, remodeling, or new construction on your home. We can also aid the process of property ownership transfer by allowing you to know what lies within your new property.
GPRS helps surveyors detect unknown structures that fall within survey boundaries during a site survey.
We're confident GPRS will be able to assist you on your next job, whatever it may be. Call your regional representatives today to discuss your options!