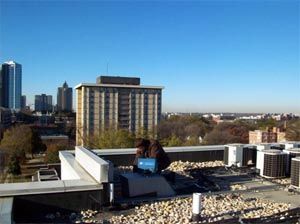 GPRS uses the latest ground penetrating technology to provide critical information on utilities, concrete, and other potential problem areas within existing structures or underground. Specifically, GPRS will plot the location of subsurface obstructions directly onto the surface, giving the contractor a clear indication of where it is safe to drill, cut, or dig and where extra caution is necessary. Additionally, we make your experience with us safe and cost-effective by eliminating "unknowns" through:
Non-Destructive Testing

We can identify and map the location of sub-surface utilities, reinforcing steel within concrete, and voids without damage to the surrounding structures. Because GPRS uses radar detection methods, we can inspect your job site non-intrusively, allowing you to preserve your structure and avoid project down time.

Cost Reduction

Working with GPRS eliminates the chance for expensive job downtime or setbacks due to structure damage, facility shutdown for a severed utility line, or worker injury.
The cost of GPRS services is relatively minor compared to the value of your project and, importantly, the cost of accidents, structure damage, or injuries.
Risk Reduction

GPRS technology does not deliver any radiation as we scan your job site.
You can reduce worker injury and accidents by using GPR to locate potential problem areas.
Likewise, GPRS will make your job site safer by protecting your workers and the surrounding community from cutting into a utility line or severely damaging a structure in order to find sub-surface materials.
Quality Assurance

GPRS helps you monitor built-as-designed issues in your structure. For example, our technology can determine if the concrete slabs or CMU walls were constructed as specified and if rebar is placed appropriately per the design plan.
We know that safety, cost reduction, and quality assurance are as important to your company as they are to us. Let GPRS help you obtain as much information as possible about your project areas to ensure a secure, responsible, and cost effective work environment.