GROUND PENETRATING SERVICES IN TEXAS
Ground Penetrating Radar Systems of Houston
Ground Penetrating Radar Systems, LLC, is Houston's largest company specializing in the detection of underground utilities and the scanning of concrete structures. GPRS has an extensive nationwide network of highly trained and experienced technicians in every major U.S. market. When clients hire GPRS, they have the peace of mind of knowing that they have the most reliable scanning technology on their job site and they'll receive the assistance of a technician who can provide them with the most accurate data. For over a decade, GPRS has been the industry leader by providing outstanding service and cutting edge technology, keeping projects on time, reducing safety risks, and putting our relationships with our clients before profit.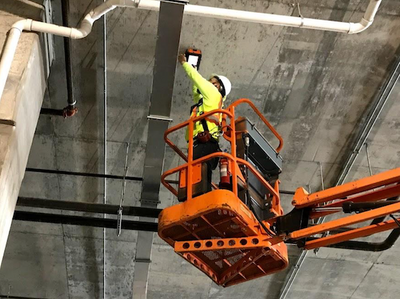 FEATURED CONCRETE SCANNING STORY
Post Tensioned Cables Located Prior to Drilling Anchor Locations at Whole Foods in Houston, Texas
Prior to drilling and installing over 100 anchor and concrete core locations for new plumbing, electrical and HVAC systems, a local general contractor subcontracted Ground Penetrating Radar Systems, LLC to scan and locate post tensioned cables throughout the entire store. The contractor knew that the concrete slab on the floor and ceiling contained post tensioned cables and wanted to avoid them for the duration of all drilling. This was the contractor's first time working with GPRS and after asking around other general contractors, many other companies referred GPRS as their go-to concrete scanning company. Since the anchor locations were on the ceiling, GPRS also rented and provided an aerial lift with certified Project Manager's for the duration of the project. After mobilizing to the jobsite, the Ground Penetrating Radar Systems team was able to locate multiple post tensioned cables and conduits running in the floor and ceiling slabs.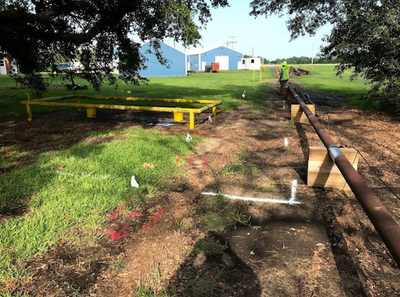 FEATURED UTILITY LOCATING STORY
Multiple Utilities Found at ExxonMobil Facility in Houston, Texas
Ground Penetrating Radar Systems was contacted by a special services contractor in the Houston Metro area to conduct a private utility scan in an area of concern at a local ExxonMobil facility. The contractor needed to excavate around some existing water valves for some underground maintenance on the water lines coming from these valves. Part of the facilities ground disturbance regulations was to call in a private utility locate to minimize any damage or dangers during this operation. Enter GPRS, the largest provider of private subsurface locating in the country. Within 24 hours, the Houston branch of GPRS mobilized to the site to conduct the locate. When GPRS arrived on site, the site contact for the contractor walked us to the area of concern and pointed out all the potential issues. Right away, we were able to determine that the area was going to be highly congested with pipelines, water lines and electric conduits based on just basic observation of aboveground indicators. GPRS conducted the scan using a 350Mhz GPR antenna and RD8100 electromagnetic pipe locator.