GROUND PENETRATING SERVICES IN TEXAS
Ground Penetrating Radar Systems of Fort Worth
Ground Penetrating Radar Systems, LLC, is Fort Worth's largest company specializing in the detection of underground utilities and the scanning of concrete structures. GPRS has an extensive nationwide network of highly trained and experienced technicians in every major U.S. market. When clients hire GPRS, they have the peace of mind of knowing that they have the most reliable scanning technology on their job site and they'll receive the assistance of a technician who can provide them with the most accurate data. For over a decade, GPRS has been the industry leader by providing outstanding service and cutting edge technology, keeping projects on time, reducing safety risks, and putting our relationships with our clients before profit.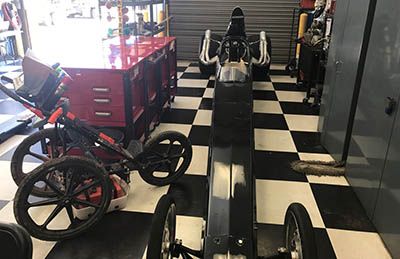 FEATURED CONCRETE SCANNING STORY
GPR Scan For Soil Borings Inside Race Facility in Fort Worth, Texas
Ground Penetrating Radar Systems, LLC. was contacted to clear several planned interior and exterior soil borings inside of a race facility in Fort Worth, Texas. The firm the facility hired was tasked with drilling said borings and examining the soil samples taken to look for contamination. As numerous hydraulic lifts and several oil and gas features were located on site, borings were needed near each feature to check for the potential contamination. As this was an active facility, and other work was being performed in the vicinity, the firm needed to check all locations in a very timely manner and ensure total safety.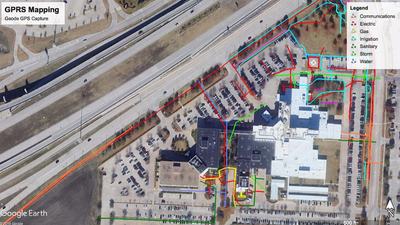 FEATURED UTILITY LOCATING STORY
Hospital Scan In Dallas-Fort Worth, Texas
We recently scanned a large portion of a hospital in the DFW area. The scan encompassed about 15 acres and the customer requested that GPRS mark out the locations of all utilities on site as shown above. When we approach a large project like this, we use a tested GPR methodology to ensure that the scan is comprehensive. SIM (Subsurface Investigation Methodology) includes the following steps: To begin, we search the site for visible signs of utilities, and then we open up utility features (as needed) and use the EM Locator to induce a tone onto anything conductive. By inducing a tone onto each utility, we can follow it and mark it on the surface, and we can get some idea of the depth of the line. Additionally, we know what utility is being toned, so we can generally identify the utility correctly, though this is not always the case. Sometimes, the tone can jump from one utility to another, creating confusion. It is always best to pothole our findings to verify whether all lines are identified correctly.