GROUND PENETRATING SERVICES IN TEXAS
Ground Penetrating Radar Systems of San Antonio
Ground Penetrating Radar Systems, LLC, is San Antonio's largest company specializing in the detection of underground utilities and the scanning of concrete structures. GPRS has an extensive nationwide network of highly trained and experienced technicians in every major U.S. market. When clients hire GPRS, they have the peace of mind of knowing that they have the most reliable scanning technology on their job site and they'll receive the assistance of a technician who can provide them with the most accurate data. For over a decade, GPRS has been the industry leader by providing outstanding service and cutting edge technology, keeping projects on time, reducing safety risks, and putting our relationships with our clients before profit.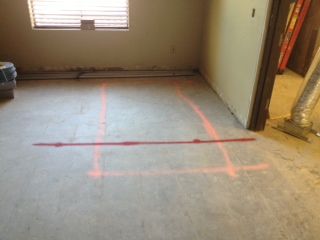 FEATURED CONCRETE SCANNING STORY
Concrete Scanning For Smurf Tube in San Antonio, Texas
Prior to saw cutting for a new trench, an electrical contractor contacted Ground Penetrating Radar Systems, LLC. Brandon Campos mobilized to the site in San Antonio, Texas to perform a GPR scan within the suggested areas. Due to the portability of the GPR antenna, the radar imaging was performed quickly and accurately. Since the results were marked directly onto the surface, the customer was able to avoid any conduit damage to the structure and injuries on-site.
FEATURED UTILITY LOCATING STORY
GPRS Locates Underground Utilities For Downtown Facelift in San Antonio, Texas
The Henry B Gonzales convention center in San Antonio is undergoing multiple facility renovations. The contractor's main concern was to protect the existing infrastructure during excavation. French drains are perforated PVC pipes the typically installed on top of the clay layer of soil underground to insure the proper movement of groundwater, thus preventing standing water and over watering to occur. Trough drains are a linear floor drain typically used in preventing standing water on smooth surfaces where water is prevalent. The contractors were told to be cautious when digging due to all the utilities in the trenching areas.