Ground Penetrating Radar for Finding Utility Ducts in Texas
A high-voltage electrical duct bank in the path of an excavation. Contractors working on this project were aware of it, but were amazed to see it was less than 4 feet deep.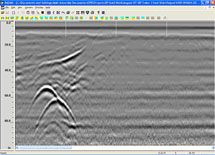 Two large product lines in a refinery - 4' and 5' deep. The refinery requested all utilities be located and assigned an approximate depth prior to staging a crane in the area. The crane's weight could have crushed any utility within 30" of the surface.