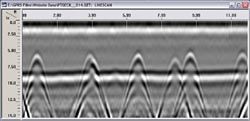 DATA FROM A PARKING GARAGE
GPRS mapped out the path of post-tensioning tendons prior to core drilling for the installation of a new floor drain. The data reveals an 8" slab with the tendons approximately 30" on center.
DATA FROM A HOTEL
GPRS determined the location of post-tensioning strands prior to making penetrations in the floor for new communications conduits. The data reveals a 7" pour with post-tensioning clearly visible. There is also a beam containing several tendons adjacent to the area where the coring was proposed.
John marks the location of post-tension cables on a concrete floor. The completed layout guides the contractor to safe drilling.