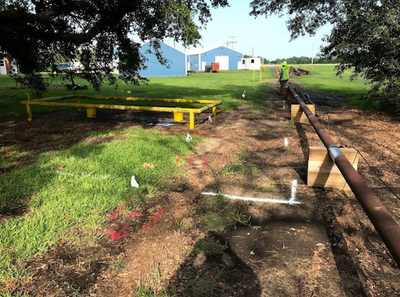 Multiple Utilities Found at ExxonMobil Facility in Houston, Texas
Ground Penetrating Radar Systems was contacted by a special services contractor in the Houston Metro area to conduct a private utility scan in an area of concern at a local ExxonMobil facility. The contractor needed to excavate around some existing water valves for some underground maintenance on the water lines coming from these valves. Part of the facilities ground disturbance regulations was to call in a private utility locate to minimize any damage or dangers during this operation. Enter GPRS, the largest provider of private subsurface locating in the country. Within 24 hours, the Houston branch of GPRS mobilized to the site to conduct the locate. When GPRS arrived on site, the site contact for the contractor walked us to the area of concern and pointed out all the potential issues. Right away, we were able to determine that the area was going to be highly congested with pipelines, water lines and electric conduits based on just basic observation of aboveground indicators. GPRS conducted the scan using a 350Mhz GPR antenna and RD8100 electromagnetic pipe locator. GPRS was able to mark these out and save on potentially thousands of dollars in damage and prevent any possible injuries. Using the SIM (Subsurface Investigation Methodology) system that was created by GPRS, the contractor was provided with clear markings and a walk-through of all findings. The contractor was able to make all necessary adjustments to the drilling in real time as the GPRS Project Managers completed each of the scan areas. During this process, the GPRS Project Manager on site provided clear and concise communication with the client on all site limitations and findings. Using the information provided, the client was able to make informed decisions, keeping their project on time, under budget, and most importantly, safe. Safety is top priority with GPRS; all necessary personal protective equipment ("PPE") is utilized at all time on all work on sites, and our goal is to get our team, and yours, home safely.
The above-ground is never a safe indication of what's below. Contact Ground Penetrating Radar Systems prior to any excavation, boring, sampling, or remediation projects to locate any known or unknown underground utility lines. This will help you and your team avoid costly repairs and delays to your project. Ground Penetrating Radar System uses the newest and most advanced tools in the industry. When coupled with our industry-leading proprietary training program, our Projects Managers bring unparalleled excellence to your scope of work. (Visit www.simspec.org for more information). Using a vast network of experienced Project Managers across the country, there is never a problem that GPRS is not ready to tackle. Ground Penetrating Radar Systems provides the solutions to the problems that can be experienced by any trade or contractor in the field.
Our Mission is to provide solutions to the critical problems our customers face regarding the location of hidden elements in concrete and underground.