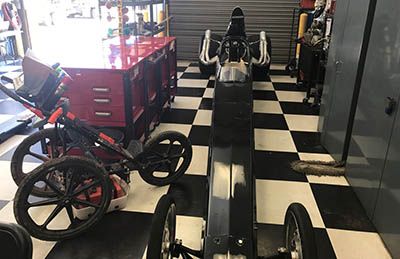 GPR Scan for Soil Borings Inside Race Facility
Ground Penetrating Radar Systems, LLC. was contacted to clear several planned interior and exterior soil borings inside of a race facility in Fort Worth, Texas. The firm the facility hired was tasked with drilling said borings and examining the soil samples taken to look for contamination. As numerous hydraulic lifts and several oil and gas features were located on site, borings were needed near each feature to check for the potential contamination. As this was an active facility, and other work was being performed in the vicinity, the firm needed to check all locations in a very timely manner and ensure total safety.
Gasten Schoonover with Ground Penetrating Radar Systems, LLC., was contracted to scan each soil boring location both inside and outside the facility and was able to clear each area around every lift and oil or gas feature. GPRS was able to provide much needed information to move their project along at an expedited pace. Gasten Schoonover, using Ground Penetrating Radar, was able to accurately mark out all electrical, communications, gas, water, and sewer utilities. By locating all utilities and clearing each boring, Ground Penetrating Radar Systems, LLC. was able to save the project future time, money, and ensure safety on site. Due to Ground Penetrating Radar Systems, LLC.'s quick response, rapid turnaround, quality of work, and industry-leading technology, we were able to ensure no disruptions were encountered and a very quick start and finish to drilling and examining each soil boring. Ground Penetrating Radar and Radio Detection equipment is cost effective, non-hazardous, and provides accurate data in real time. GPRS can also provide detailed reports, GPS layouts, AutoCAD and many other services. Ground Penetrating Radar Systems, LLC., is the nation's largest company specializing in the detection of underground utilities and the scanning of concrete structures, has been in business for over 14 years, and has performed concrete scanning, void detection, UST locating, and underground utility locating projects for over 30,000 customers throughout the United States, the Caribbean, and Canada. Ground Penetrating Radar Systems, LLC. uses industry-leading equipment, provides industry-leading results, and keeps your projects on time.
For service in the North Texas or surrounding areas, or a quick quote, please contact Project Manager Gasten Schoonover at (817) 757-9527 or email Gasten.Schoonover@gp-radar.com.