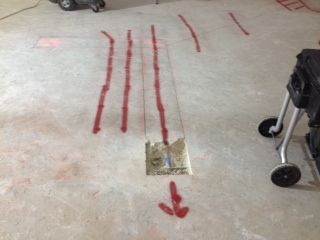 Concrete Scanning For Smurf Tube
Prior to saw cutting for a new trench, an electrical contractor contacted Ground Penetrating Radar Systems, LLC. Brandon Campos mobilized to the site in San Antonio, Texas to perform a GPR scan within the suggested areas. Due to the portability of the GPR antenna, the radar imaging was performed quickly and accurately. Since the results were marked directly onto the surface, the customer was able to avoid any conduit damage to the structure and injuries on-site.
Unlike x-ray/gamma ray, Ground Penetrating Radar is time efficient, non-hazardous and able to show real time results. The energy emitted is equivalent to 1% of a cell phone, therefore, the production of the construction site can continue without any radiation hazards.
Our Mission is to provide solutions to the critical problems our customers face regarding the location of hidden objects in concrete and underground.
For concrete scanning in Texas: San Antonio, Eagle Pass, Laredo, Boerne, Kerrville, New Braunfels, Del Rio, Seguin, Cotulla, Uvalde, Junction, El Paso, Temple, Austin, San Marcos, and Rio Grande Valley area call (210) 607-0361 / (956) 929-0778 or email brandon.campos@gprsinc.com.