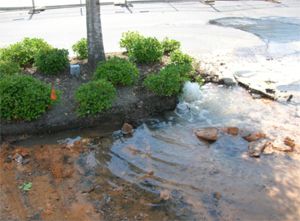 WHY CALL GROUND PENETRATING RADAR BEFORE YOUR NEXT EXCAVATION PROJECT?
The pictures you see below are from a local attraction in Orlando, FL. The demolition contractor was removing a curb when they unknowingly broke a main feed line for the sprinkler system. This would normally not have been something difficult to remedy. However, they did not know where the shut-off valve was for the system. With this problem hundreds of gallons of water were wasted and the ground will have to be repaired prior to work continuing.
This is not an uncommon issue on job sites today. To cut cost contractors are performing site work, demolition and excavation without having a proper utility locate performed. Most argue that it is a private property and therefore the local "one-call" services will not perform the scan. This, however, is where Ground Penetrating Radar Systems really shines. We work in all conditions providing one of the most comprehensive and accurate utility locates available.
We can ensure you that your project will be safe and more cost effective before you start digging or excavating. Please contact your local technician for more information, to attain a price quote, or schedule work.