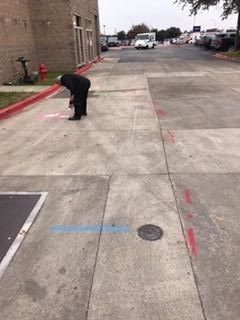 Utility Locate in North Richland Hills
Ground Penetrating Radar Systems was contacted by an environmental company to locate underground utilities prior to 4 soil borings that were going to be drilled through a parking lot scoped to have an addition added onto the hospital over the next 9 months. In a parking lot like the one shown to the right, the customer is concerned about striking site lighting, other unknown electrical, water lines, sewer lines, and unknown sprinkler lines. GPRS was able to come out and successfully locate exactly where the all the underground utilities were that would possibly be obstructing their drilling activities. The client understood that by having Ground Penetrating Radar Systems out to locate all subsurface utilities, they saved on time and money by preventing a line hit and repair. This was crucial for the project to remain on time and to officially get started.
Ground Penetrating Radar Systems used a 400 MHz antenna for this application and a Radio Detection (RD) device to detect electrical current deep in the soil. All findings were marked with SUE marking paint directly on the surface for easy interpretation by the customer. GPRS' 400 MHz antenna was ideal because of its accurate deep penetration and the open clear area the technician had to work. GPR was ideal for this application due to the active work site in the surrounding areas. GPR emits no radiation and is safe for others to work in the area near the scan location.
Sonar has also been performed to locate reinforcement, conduit, beams, and other crucial obstructions prior to any saw cut or core drilling work being performed. X-ray can also be used overhead to prevent anchor strikes of post tension cables. Ground Penetrating Radar Systems has over 250 employees nationwide and can perform work anywhere in the United States. Please contact Adam Kubicki at (972) 922-0223 or at adam.kubicki@gprsinc.com if you would like us to perform work in Dallas, Fort Worth, Arlington, Grapevine, Irving, and Sherman, Texas. We also cover Oklahoma City and Tulsa, Oklahoma. We look forward to hearing from you.