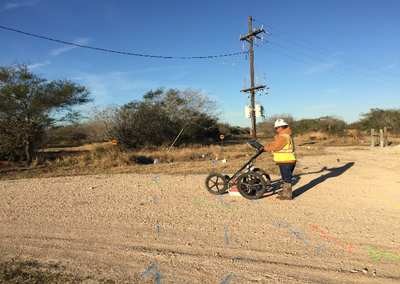 Underground Utilities Located at a Refinery Facility in Corpus Christi, Texas
Prior to drilling and hand augering operations for environmental sampling and monitoring well installs, a local environmental agency subcontracted Ground Penetrating Radar Systems, LLC to locate possible utility lines in select areas throughout the property. Above-ground gas markers indicated the presence of three potential gas lines crossing through a future work area requiring this environmental investigation. With the help from the Ground Penetrating Radar Systems team, nine additional gas lines were found to be crossing the concerned areas. After each area was scanned, the utility line locations were collected via GPS and exported to a Google Earth KMZ for the client to use in the future, holding a convenient and precise permanent record. With the findings from the GPRS team, our client was able to safely position new sampling locations to avoid any obstacles on site. During this process, the GPRS Project Manager on site provided clear and concise communication with the client on all site limitations and findings. Using the information provided, the client was able to make informed decisions, keeping their project on time, under budget, and most importantly, safe.. Safety is top priority with GPRS; all necessary personal protective equipment ("PPE") is utilitized at all time on all work on sites, and our goal is to get our team, and yours, home safely.
The above-ground is never a safe indication of what's below. Contact Ground Penetrating Radar Systems prior to any excavation, boring, sampling, or remediation projects to locate any known or unknown underground utility lines. This will help you and your team avoid costly repairs and delays to your project. Ground Penetrating Radar System uses the newest and most advanced tools in the industry. When coupled with our industry-leading proprientary training program, our Projects Managers bring unparalleled excellence to your scope of work. (Visit www.simspec.org for more information). Using a vast network of experienced Project Managers across the country, there is never a problem that GPRS is not ready to tackle. Ground Penetrating Radar Systems provides the solutions to the problems that can be experienced by any trade or contractor in the field.
Our Mission is to provide solutions
to the critical problems our customers
face regarding the location of hidden
elements in concrete and underground
For private utility locating in Corpus Christi,TX, including Victoria, Kingsville, Harligen, Brownsville and Rio Grande City. Give us a call at 361.424.2258 or email Joshua.Gonzales@gprsinc.com
For private utility locating in Houston,TX, including Galveston, Conroe, College Station, Lufkin, and Beumont. Give us a call at 281.386.7160 or email Josh.Henes@gprsinc.com
For private utility locating in San Antonio,TX, including Laredo, Del Rio, Waco, Austin, and George West. Give us a call at 210.607.0361 or email Brandon.Campos@gprsinc.com
For private utility locating in Dallas, TX, including Fort Worth, Abilene, Wichita Falls, Gainsville, Texarkana, and Nacogdoches. Give us a call at 972.922.0223 or email Adam.kubicki@gprsinc.com
Not located in Texas ? Don't worry. We have Expert Level Team Members located in every major city in the United States. Give us a call 1.866.914.4718 (toll-free) to get connected to Team member near you.