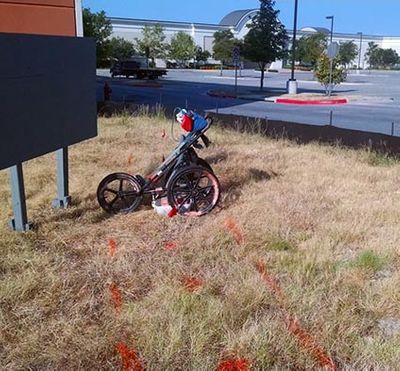 Underground Obstruction Scan Prior To Construction of Apartment Complex
MLA Labs in Austin, Texas has a project where they need to establish an understanding of the soils for a new apartment/condo complex . Part of this is performing soil borings to determine the geology at the site. The drilling required them to clear the areas of any underground obstructions, utilities, and anomalies. Ground Penetrating Radar Systems technician, Austin/Houston Project Manager Jacob Blust, was called out to perform an underground GPR survey. During the survey, using real-time data collection, underground utilities were plotted out through the scope of work area so that they would not hit any utilities during the soil borings.
In addition to finding underground utilities, Ground Penetrating Radar Systems has the ability to locate storage tanks, map out rebar, post-tension and conduit prior to saw cutting and trenching, and in some cases unmarked graves. If you are interested in obtaining more information or a quote, please contact Jacob Blust at (512) 516-2898 for your projects in Houston, Galveston, Beaumont, Austin, College Station, Temple, Katy, Corpus Christi, Victoria, Central Texas, and the Texas Gulf Coast region. For any other project across Texas or the United States, please visit our "Contact Us" page for a local representative near you.