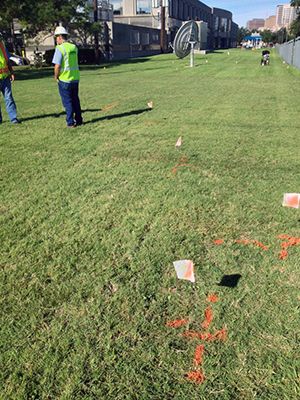 Subsurface Utility Locating
Ground Penetrating Radar Systems (GPRS) of the Houston, TX office was called by Lectrus Construction to locate any subsurface utilities prior to installing new solar panel field at the Texas Medical Center. Nate Loyola, technicians on site, used GPR (Ground Penetrating Radar) 400 MHz antenna to locate and mark out the potential subsurface utilities such as storm drains, energized lines, natural gas lines and other telecom and fiber optics below the surface. Paint, flags and wooden lath are always used to help clearly identify subsurface utilities.
GPRS is the safe, accurate, and effective method for locating obstructive subsurface utilities. With this innovative technology, we use zero radiation and can assemble, scan and mark out in real time. GPRS of the Houston, TX office covers Humble, Spring, Tomball, The Woodlands, Cypress, Katy, Missouri City, Pearland, and Pasadena, TX. For more information on utility locating or to arrange a Lunch and Learn Presentation, please contact Glenn Zebrowski – Regional Manager at (281) 728-7025 or Nate Loyola – Project Manager at (832) 262-3438. You can also email Glenn at Glenn.Zebrowski@gp-radar.com or Nate at nate.loyola@gprsinc.com. Call before you dig.