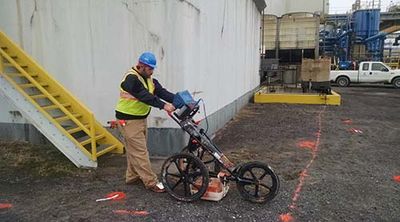 Private Utility Locating with GPR
This winter, the engineering department at Gerdau in Beaumont, Texas had GPRS perform a utility locate along a new pipe-rack pathway. Ground Penetrating Radar Systems (GPRS) was there to conduct the utility locate to mark all known and unknown gas pipelines, power, communications lines, storm drain lines, water, sanitary sewer lines, and any other anomalies that may have been in the way of the foundation piers along the pipe-rack pathway. For Gerdau's goal of total site safety, GPR surveys are used on areas like this is to locate any hazards that may be in the way ensuring a job free of time-loss. This also ensures that nothing in the ground will be compromised and projects won't have delays.
GPRS of Houston and the Gulf Coast was able to conduct the utility locate and map the findings directly on the ground surface for the client. They will be able to proceed with any construction that they had planned. GPRS can help keep projects on schedule by letting the clients know where problem areas may be. Utility locating is a common application for GPRS technicians.
Other services we offer are: Post-Tension Cable Location, Conduit Locating, Rebar Locating, Void Location, and more. If GPR services are needed in Houston, Beaumont, Corpus Christ, or anywhere along the Gulf Coast, call Jacob Blust at (512) 516-2898 or Nate Loyola at (281) 728-7025. Or email us about your project at jacob.blust@gprsinc.com.