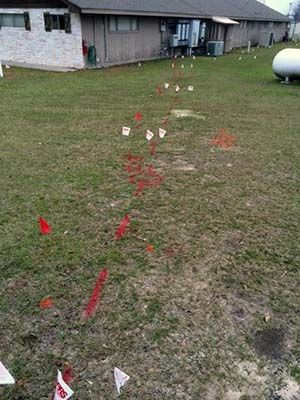 Private Utility Locate
Ground Penetrating Radar Systems (GPRS) of the Houston, Texas office was called to locate underground utilities and obstructions prior to trenching a new communication line into the building. Mitch Halquist, GPRS technician on site, used GPR (Ground Penetrating Radar) 400 MHz antenna & RadioDetection to locate and mark out the underground utilities. In this photo, GPR/RD located several high voltage transmission lines as well the existing communication line crossing the proposed trench line. We were also able to locate the existing propane line, telephone line and underground drain lines for the client. With a simple precautionary phone call to GPRS prior to trenching, digging, drilling or excavating, the hazards of a possible strike or hit on an energized line or utility were avoided and the hazards crossing the trench line were clearly marked out with depth indications.
GPRS is the safe, accurate, and effective method for locating underground utilities such as power, water, telecommunications, instrumentation, pipelines or other anomalies. This innovative technology has zero radiation and can assemble on site and scan and mark out in real time. The GPRS of Houston, Texas covers Humble, Spring, Tomball, The Woodlands, Conroe, Cypress, Katy, Missouri City, Sugar Land, Pearland, and Pasadena, Texas.
For more information on concrete scanning or to arrange a Lunch and Learn Presentation, please contact Nate Loyola – Regional Manager at (281) 728-7025 or Mitch Halquist – Project Manager at (713) 253-7072. You can also email Nate at nate.loyola@gprsinc.com or Mitch at mitch.halquist@gp-radar.com. Know what's below! Call GPRS & lets be safe together.