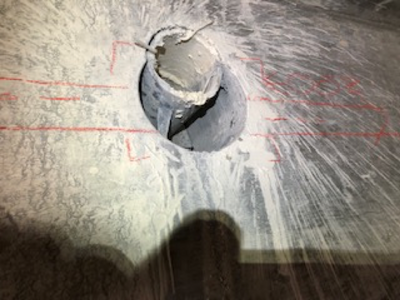 Located PT Cables and 9 Beams With GPR - Dallas, TX
Ground Penetrating Radar Systems was contacted by Austin Commercial to locate post tension cables and nine beams at 2000 Ross Ave Dallas, TX. The contractor needed a core drilled through each of the nine beams. They contacted GPRS to locate post tensions cables due to the holes drilled in the precast not being to right size. They wanted this done so they wouldn't hit any more post tensions cables.
Ground Penetrating Radar Systems used a GSSI 1600 MHz antenna for this application to locate the pt cables. All findings were marked directly on the concrete at customers request for easy interpretation.
For a similar scan on your job site please contact Austin Hearn at 405-441-8686 or at austin.hearn@gprsinc.com. Sonar has also been used to locate utilities in Fort Worth, Arlington, Wylie, and Plano, Texas. For safety, X-ray is also used to locate critical post tension cables inside concrete to prevent injuries while cutting or drilling.