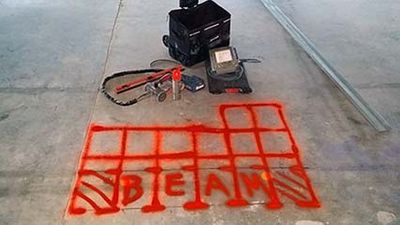 Identifying Rebar and Grade Beams Prior to Core Drilling
When a plumber was working on a building renovation in Austin, Texas, he determined that the project required the installation of a water line which would pass through a slab of concrete. Knowing the potential risk and costly damage that could result from blindly cutting into a concrete slab, the plumber called Corey Brecht with GPRS of Central Texas to scan the area. Using cutting edge ground penetrating radar technology, Corey was able to locate the reinforcing steel beams that ran through the concrete slab and determine where the beam edge began. Thanks to the clear and accurate markings Corey made onto the concrete, the plumber was able to start drilling into the slab so that the new water line could be installed.
To learn how GPRS can help you cut safely, contact Corey Brecht at (512) 417-6105 or via e-mail at corey.brecht@gprsinc.com.