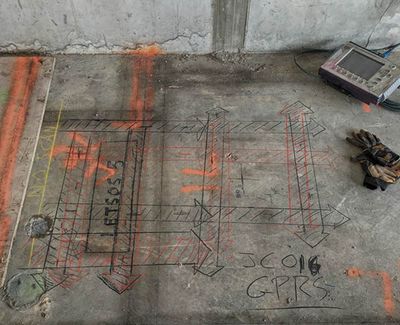 High Rise GPR Concrete Scan
A large general contractor in the Houston area contacted GPRS to areas in a high-rise residential building to scan multiple core locations, marking out post-tension, and all other reinforcement/ obstructions in the slab before coring. GPRS was able to mark out all the reinforcement in the 8" slab, including rebar, post tension, conduits, and lower mats of rebar. We used multiple colors to better distinguish between the higher and lower reinforcement, as well as the thicker bundles of reinforcement, or conduits. GPRS was able to save the client money by ensuring that the structural integrity of the building was not compromised by accidentally coring through rebar or post-tension.
To learn more about the capabilities of GPRS in the South Texas Gulf Region, contact Project Manager Jim Cardoza at (713) 253-7072 / jim.cardoza@gprsinc.com or Nate Loyola at (832) 262-3438 / nate.loyola@gprsinc.com.