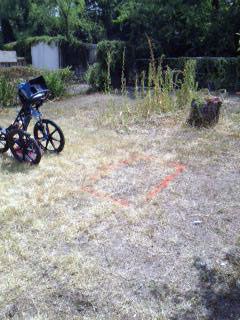 Ground Penetrating Radar Used To Locate Possible Human Remains
Ground Penetrating Radar Systems-Texas was contacted by the San Antonio Police Homicide Unit to help investigate a murder case. Brandon Campos mobilized to the site and provided knowledge of possible soil disturbances and depths. After GPRS's process was complete, GPR was able to locate soil disturbances within the proposed investigation area. The findings were marked directly onto the surface and the customer was able to dig safely. Using GPRS reduces risk and cost, promotes a safe work environment, and provides non-destructive testing by locating materials such as concrete, plastic, metal, steel, and pavement.
Our Mission is to provide solutions to the critical problems our customers face regarding the location of hidden objects in concrete and underground.
For utility locating in Texas: San Antonio, Eagle Pass, Laredo, Boerne, Kerrville, New Braunfels, Del Rio, Seguin, Cotulla, Uvalde, Junction, El Paso, Temple, Austin, and San Marcos area call (210) 607-0361 or email brandon.campos@gprsinc.com