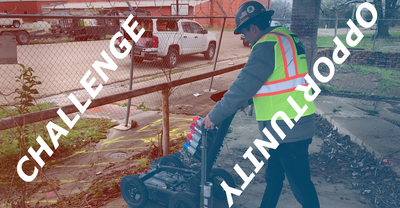 GPRS Turns Challenges into Opportunities
It has been a busy and cold winter, and we have encountered a few recent challenges, which we have taken as opportunities to go above and beyond for our customers. Sometimes challenges are really just opportunities in disguise—opportunities to grow, to serve others, to innovate. Here are a few recent challenges (opportunities) that our team has encountered.
1) We recently worked in an industrial setting, and located numerous utilities in one small area. In fact, there were so many utilities that the ground was nearly covered in paint. Rather than asking our customer to decipher the mess, we offered to complete a GPS satellite capture of our findings, which was converted into a CAD file. This was helpful, but still did not provide the level of detail that the customer needed to know about these utilities. We worked with them to determine their reporting requirements and completed a report that included call outs with notes on specific utilities, complete with site photos, line depths, and where possible, line sizes.
2) On another recent job, we were working on a roof when it started to lightning and hail. We waited out the storm and then finished the scan once it was safe to proceed. The only problem is that the concrete surface was soaked, so marking our findings would be difficult. We used red crayon, which works in the rain, but we wanted to present our findings in a way that the customer could easily understand. We completed this digital markup for no extra charge in order to make the red crayon markings clear enough to easily discern. The blue areas show the beams, and the red lines mark the rebar.
3) On another site, we faced multiple lightning delays, and actually had to remobilize once the storm passed. On the second mobilization, we returned to find that the pipe the customer wanted us to trace was completely submerged and inaccessible. Generally, EM technology requires direct access to a conductive utility in order to induce a traceable tone, but in this case, we were able to innovate a solution. We knew enough about the path of the utility in question to induce a tone by laying the Vivax transmitter over a known section of the pipe. The transmitter's settings were adjusted so that an electromagnetic field was created under its surface location, and this field induced a current onto the utility in question. We were able to follow the utility for short distance, re-toning it (using the same method) as needed. Thus, we were able to save the customer the trouble, cost, and delays of a third mobilization to the site.
Whether you have a straightforward job and just need fast, quality service, or a complex job that requires problem solving, we hope that you'll give us a chance to turn your challenges into opportunities. We do not have a magic wand, and we cannot solve every mystery, but we are committed to doing everything within our power to pursue subsurface answers, even if that requires us to grow and innovate. If you have a subsurface question in need of answers, call us at 214-471-9001.