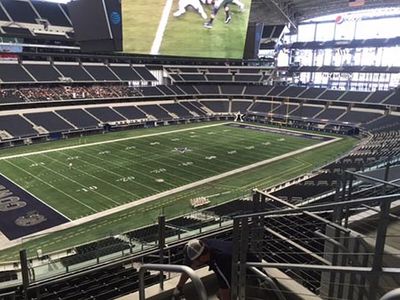 GPRS Scans for Conduits at Football Stadium
Ground Penetrating Radar Systems was contacted by a general contractor to locate the conduits inside a suspended slab at the Cowboys football stadium in Dallas, Texas. The contractor needed multiple core drills and anchor locations cleared for the ventilation and piping for the new restaurant opening in the stadium. Concerned about hitting a conduit and shutting down sections of the stadium, or the entire stadium itself, the contractor called upon GPRS to locate all the electrical inside the slab before making any penetrations.
Ground Penetrating Radar Systems used a GSSI 1600 MHz antenna and mini for this application to locate the conduits. All findings were marked directly on the concrete at customers request for easy interpretation. GPR was ideal for this application due to the active
GPRS does not provide geophysical, geological, land surveying or engineering services. If you need such services, please contact an appropriate professional.
work site in the surrounding areas. GPR emits no radiation and is safe for others to work in the area near the scan location.
For a similar scan on your job site please contact Adam Kubicki at (682) 999-0046 or at adam.kubicki@gprsinc.com. Sonar has also been used to locate utilities in Fort Worth, Arlington, Wylie, and Plano, Texas. GPR "X-ray" technology is also used to locate critical post tension cables inside concrete to prevent injuries while cutting or drilling.