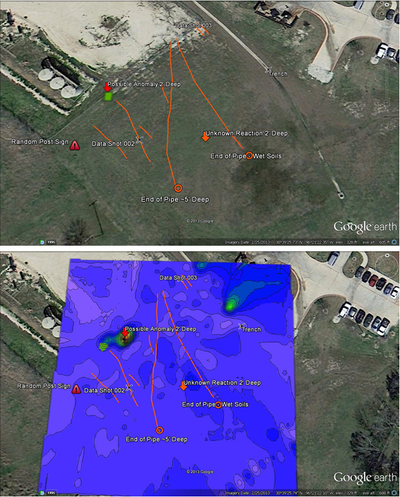 GPR Utility and UST Scanning
Ground Penetrating Radar Systems (GPRS) of the College Station, TX office was called by AEI Consultants to locate any subsurface utilities and possible UST's prior to soil sampling in Bryan, Texas. Nate Loyola, technician on site, used GPR (Ground Penetrating Radar) 400 MHz antenna to locate and mark out the potential utilities such as UST's, storm drains, energized lines, natural gas lines and other telecom and fiber optics. He also used the EMI-400 (Electromagnetic Induction) Profiler giving the client up to 9' deep of soil changes and high reflection metallic points that could lead to locating UST's.
GPRS is capable of utilizing the latest survey equipment for collecting GPS coordinates for Google Earth and Auto CAD overlay. We can also provide clients with detailed colored maps of soil density changes showing container leaks and potential UST's.
GPRS is the safe, accurate, and effective method for locating any subsurface utilities and underground storage tanks. With this innovative technology, we use zero radiation and can assemble, scan and mark out in real time. GPRS of the College Station, TX office covers Bryan, Navasota, Huntsville, and Conroe, Texas. For more information on utility locating or EMI imaging or to arrange a Lunch and Learn Presentation, please contact Glenn Zebrowski – Regional Manager at (281) 728-7025 or Nate Loyola – Project Manager at (832) 262-3438 You can also email Glenn at Glenn.Zebrowski@gp-radar.com or Nate at nate.loyola@gprsinc.com.