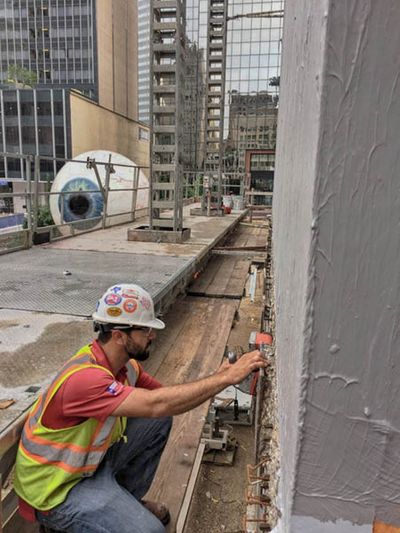 GPR Scanning for Post Tensioned Cables
This GPR scan took place on the outside face of a concrete beam in a building in downtown Dallas, Texas. The customer needed to recess the end plates after shaving a couple inches off the face of the beam in order to install the glazing correctly. Drilling into the beam to install anchors was required, and the beam is reinforced with post tensioned (PT) cables, which can cause serious injury or damage if struck in the event of a failure. The PT cables needed to be clearly marked before the customer commence.
David Hagenmayer with Ground Penetrating Radar Systems, LLC., was contracted to scan the area requested and mark out all PT cables and obstructions in the concrete. David was able to determine the precise locations of the cables and the client was then able to safely and effectively drill.
GPRS, LLC. of Dallas is the most trusted concrete scanning company because of its highly trained and dedicated technicians. We are the best at what we do, because it's all we do. Ground Penetrating Radar is cost effective, non-hazardous, and provides data in real time. For GPRS services in North Texas, please call (972) 922-0223 or email david.hagenmayer@gprsinc.com