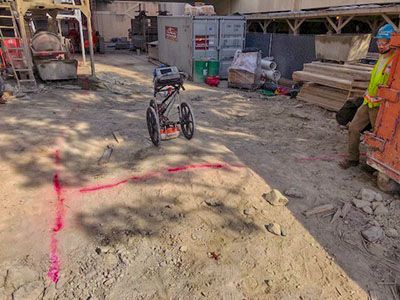 Electrical Lines Located Prior to Trenching
Ground Penetrating Radar Systems was contacted by a general contractor in Dallas, Texas to locate any underground utility lines that would obstruct a trench path to put in a new conduit that would be running through a very active job site. The client was extremely concerned of hitting heavy electrical due to the active hospital surrounding the job site that could be shut down if a significant line was struck. The electricians met Ground Penetrating Radar on site and walked through the project details while marking out locations that needed to be cleared of any and all utilities.
GPRS was able to come out and successfully locate exactly where all of the utility lines were located making this a quick and easy trench line to locate. This also helped the customer to
progress their job site at a quicker rate because they felt confident enough to use heavy machinery to dig a faster and more efficient trench after GPRS' locate.
Ground Penetrating Radar Systems used a 400 MHz antenna for this application and a Radio Detection (RD) device to detect electrical current deep in the soil. All findings were marked with SUE marking paint directly on the surface for easy interpretation by the customer. GPRS' 400 MHz antenna was ideal because of its accurate deep penetration and the open clear area the technician had to work. GPR was ideal for this application due to the active work site in the surrounding areas. GPR emits no radiation and is safe for others to work in the area near the scan location.
For a similar scan on your job site please contact Adam Kubicki at (801) 599-2115 or at adam.kubicki@gp-radar.com. Sonar has also been performed to locate reinforcement such as post tension cables, rebar, wire mesh, pan decking high and low points, conduits and many other obstructions in concrete. X-ray can be utilized in Arlington, Fort Worth, Corsicana, Carrollton, McKinney, Frisco, and the remainder of the entire United States. For a safer and more efficient dig on your next job site, or for a low risk cut/core drill on your next project, please call us and we can start your job.