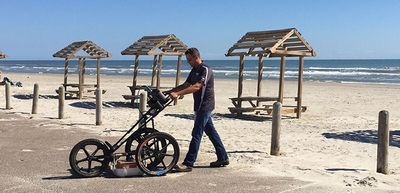 Electrical Lines Located for Contractor
Ground Penetrating Radar Systems (GPRS) of the Houston, Texas office was called by a local contractor to locate electric lines in order to avoid damaging conduits or risking the safety of their employees. The contractor was planning to remove the existing pavement, excavate three feet down, and stabilize the subgrade prior to laying new pavement. Allyn Hirsch, technician on site, used GPR (Ground Penetrating Radar) penetrating about four feet into the pavement, asphalt and soil, locating utilities. This GPR utility scan allowed the general contractor and sub-contractors to safely excavate, trench, and demo without jeopardizing the integrity of infrastructure, utilities, or their own safety. Furthermore, the contractor was able to maintain their tight schedule and complete their project on time.
GPR is the safest, most accurate method for locating conduits, live lines, utilities and other obstructions on your project. GPR technology has zero radiation and can assemble, scan and mark out in real time. GPRS of the Houston office covers College Station, Huntsville, Humble, Tomball, The Woodlands, Cypress, Katy, Sugarland, Pearland, Freeport, Deer Park, and Beaumont, Texas. For more information on utility locating, line locating, concrete scanning, or GPR please contact Allyn Hirsch – Project Manager at (979) 446-2321, also email Allyn Hirsch at allyn.hirsch@gprsinc.com.