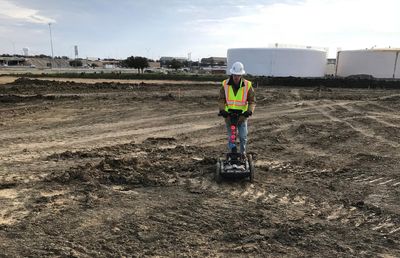 DFW International Airport
GPRS recently did three jobs at the DFW International Airport. These jobs were back to back to back for different contractors. Ground Penetrating Radar Systems scanned for utilities around an underground storage tank (UST), as well as for the tank piping, then later scanned a concrete foundation to mark out footers and steel, and finally scanning for utilities in the large open area pictured above where peers will be driven 30 feet into the ground. It was an extremely cold day, and it is difficult to see in the picture but there was ice frozen to the ground. GPRS has performed in most scenarios around the United States after completing hundreds of thousands of jobs since its inception in 2001. We are ready to handle whatever difficulties your job may include.
UST Search – For the job involving the UST, the tank itself was buried too deep to see with the GPR, but there was a small underground tunnel where pipes from the tank had previously run into the airplane hanger. We were able to run a traceable rodder down that tunnel and it navigated right to the UST. We induced a tone onto the rodder line and we were able to capture the piping from the tank, and the location of the tank itself.
Concrete Scan – The concrete scan was actually a rather unusual slab. It was a prefabricated hollow-core slab with a topping slab, and there were also beams between the sections of hollow-core. Topping slabs always make it difficult to see what is underneath, because the wire mesh in the topping slab causes GPR reactions that was out the data for what lies below. Luckily though, hollow-core slabs are fairly easy to recognize, especially since they look completely different on one axis compared to the other. When the data looks totally different on the X and Y axis, we know immediately that we are looking at either a corrugated metal (aka "pan deck") slab or a hollow-core slab. In this case, we cross polarized the antenna—that is, we changed the orientation of the signal so that it would pass more easily through the wire mesh, and we were able to easily mark out the hollows of the hollow-core slab. In such a slab, the critical steel runs between the hollows, so it is safest to drill in the hollows themselves. Finally, we had to locate the major beam that was running down the center of the building and holding the hollow-core panels in place. There was one proposed core location that would have drilled right into the center of this critical beam.
Lastly, our scan in the open field was uneventful, which is always a good thing for our customers, as fewer utilities means an easier job ahead! We located a few electrical lines, and traced out a random wire that had previously been exposed. We found that the wire only ran for about 30' in each direction and then stopped, a sure sign that it was mere debris.
It is always amazing and encouraging to me to be a part of something bigger, and I get that feeling when I'm standing inside of an airplane hanger seeing a massive multi-level airplane undergo repairs while I trace out lines to a buried diesel tank for an environmental contractor. The American economy is fascinating and beautiful, and it's an honor that we get to serve various projects around our city and country every day and be a vital part of so much incredible work that is being done. On these three projects, we got to join an environmental contractor, a general contractor, and an electrical contractor as they performed the vital infrastructure work that keeps our airplanes in the sky, and our economy booming.
We are committed to doing that work to our best ability, whether that requires extra steps to perform the work safely, showing up early to get the job done before the airplanes begin to take off, or working in the freezing cold and skipping lunch to get the job done. This is why GPRS has created "SIM". This is our standard operating procedure to ensure our customers receive a sensational locating service that is always a step above the rest. So whatever your project, whatever it requires, let us know how we can go the extra mile for you.
For a similar scan on your next job site, please contact your local representative that can be found on our website at gprsinc.com or call (214) 471-9001.