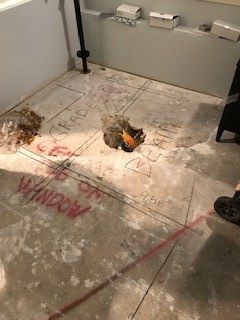 Conduit and Reinforcements Mapping
Ground Penetrating Radar Systems was contacted by a general contractor to locate the post tension cables and conduits running through a commercial slab of concrete. The general contractor was concerned about the safety issues with his contractors hitting an electrical cable or a high tension cable.
There is an excessive amount of tension put on the cables and one strike of the cable could create serious damage to the property and building. Striking post tension cables can also cause serious bodily harm to an individual in the path of one of these lines that have been hit.
It is crucial that all post tension cables be located on any project from a safety standpoint first, and a structural integrity standpoint second. Without locating the post tension and the conduits in the slab this general contractor would have been unable to continue work, putting a stop to his project and pushing his completion date back. GPRS was able to come on site within 24 hours of the requested job and safely locate all of the post tension and conduit running inside the concrete.
Many job sites require Ground Penetrating Radar to be performed before any digging, excavation, core drilling, saw cutting, anchoring, etc. starts on the job site to maintain a safe work environment.
Ground Penetrating Radar Systems used a GSSI 1600 MHz antenna for this application to locate the reinforcement and conduits. All findings were marked directly on the concrete for easy interpretation. GPR was ideal for this application due to the active work site in the surrounding areas. GPR emits no radiation and is safe for others to work in the area near the scan location.
For a similar scan on your job site please contact Adam Kubicki at (972) 922-0223 or at adam.kubicki@gp-radar.com.
X-ray has been used to locate utilities in Dallas, Fort Worth, Plano, Addison, Carrolton, Corsicana, and McKinney, Texas. Sonar can also be used to locate your residential gas line, water line, sewer line, and other important utilities that can cause safety and financial issue.