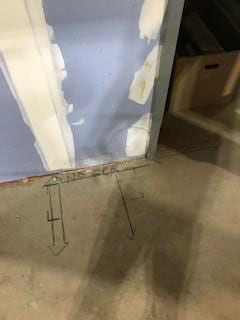 Conduit and Reinforcements Mapping
Ground Penetrating Radar Systems was contacted by a general contractor to locate the post tension cables and conduit running through a residential slab of concrete. The general contractor was concerned of the safety issues with his contractors hitting an electrical cable or a high tension cable. GPRS was able to come on site within 24 hrs of the requested job and safely locate all of the post tension and conduit running inside the slab of concrete. There is an extreme amount of pressure on post tension cables and if one is struck or cut, this could create an extreme safety issue for the other contractors on site and create a serious structural risk to the building. Conduits are another important object to locate while saw cutting or core drilling. The electrical safety hazard to the contractor striking the line would be at extreme risk of electrocution. This can also pose to be a costly mistake to fix for the general contractor on site.
Ground Penetrating Radar Systems used a GSSI 1600 MHz antenna for this application to locate the reinforcement and conduits. All findings were marked directly on the concrete at customers request for easy interpretation. GPR was ideal for this application due to the active work site in the surrounding areas. GPR emits no radiation and is safe for others to work in the area near the scan location. Ground Penetrating Radar Systems is constantly looking for updated and the latest technology for locating inside concrete or finding underground utilities. GPRS does not rely on one tool to locate but rather a wide variety of tools to complete an overall picture and accurate locate of what is under the surface to remain at its best in the locating world.
For a similar scan on your job site please contact Adam Kubicki at (972) 922-0223 or at adam.kubicki@gprsinc.com. X-ray has been used to locate utilities in Dallas, Fort Worth, Plano, Addison, and Carrolton, Texas. Sonar can also be used to locate your residential gas line, water line, sewer line, and other important utilities that can cause safety issues as well as financial.