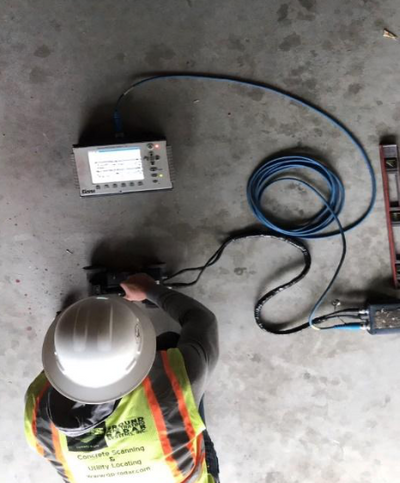 Concrete Subsurface Investigation in Austin, Texas
CLIENT PROBLEM
Client was in the process of installing bollards in a parking garage on the University of Texas campus. The bollards required to be bolted into the concrete with a penetration of three inches with a total of twenty-four penetrations. GPRS of Austin, Texas was contacted by a contractor to locate reinforcement within the concrete slab at the proposed site of the bollards. The client was looking to drill into the concrete slab to install the bollards without striking any reinforcement in the process.
HOW WE RESPONDED
GPRS arrived on site the next day with the latest equipment from one of the top industry leaders used for digital concrete imaging utilizing ground penetrating radar to map out the contents of the slab to determine how to proceed with their project safely.
RESULTS WE DELIVERED
GPRS provided illustrations marked directly on site in real time, to provide an accurate mapping of the reinforcement within the slab. This provided just what the contractor needed, so that they were able to safely anchor the bollards to the slab without compromising any structural integrity or personal safety of workers. GPRS utilizes multiple pieces of equipment that play a key role in the discovery of all reinforcement and conduits that lay beneath. The client was able to avoid all reinforcement as well as an unknown electrical conduit.
CLIENT SAVINGS
GPRS was able to provide a visual representation of the contents within the slab. All findings are effectively marked and communicated with clients to ensure the contractors can easily identify the reinforcement in or around the areas of interest. The client's main goal of the project is to prevent any strike of reinforcement within the slab. By having any sort of strike the operator or anyone within the area could be placed in immediate danger. GPRS continues to save its clients time and money by protecting and preserving subsurface infrastructure.
For more information, please contact Hunter Mitchell: 512.417.6105 | Hunter.Mitchell@gprsinc.com