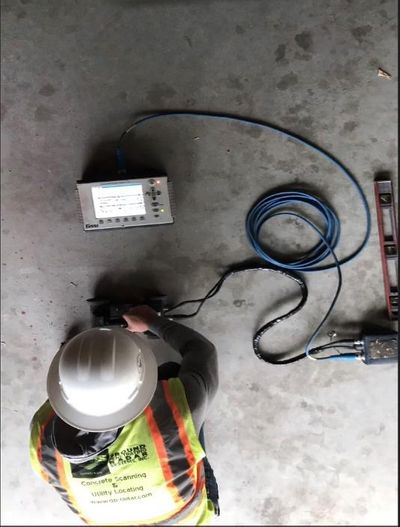 Concrete Subsurface Investigation
The client was contracted to install bollards in a parking garage on the campus of The University of Texas at Austin. Twenty-four bollards were to be installed and secured to the concrete with three-inch long concrete anchors. GPRS of Austin, Texas was hired by the client to scan and locate reinforcement within the concrete slab in the proposed bollard locations. The purpose of the scan was to identify and mark the existing post tensioned cables so they could be avoided when drilling for installation of the anchors.
GPRS arrived on site within 24 hours of the client's request. Using the latest equipment from one of the industry leaders, GPRS employed ground penetrating radar to map out the contents of the slab and provide the client with precise locations of the critical embedments so the client could safely install the bollards without incident.
GPRS provided exacting marks, representing the embedded steel reinforcement, directly on the concrete surface in real time, giving the client precisely what they needed. The client was then able to safely anchor the bollards to the slab without compromising any structural integrity or personal safety of the workers on site. GPRS utilizes multiple pieces of equipment that play key roles in the discovery of all reinforcement and conduits for your subsurface projects. The client was able to avoid all reinforcement as well as an unknown electrical conduit that was detected during the initial scan.
GPRS was able to provide a visual representation of the contents within the slab. All findings are effectively marked and communicated with clients to ensure the contractors can easily identify the reinforcement in or around the areas of interest. The client's main goal of the project is to prevent striking any critical embedments within the slab. By hitting a line or having a strike of any degree, the operator or anyone within the area are placed in immediate danger. GPRS continues to save its clients time and money by protecting and preserving subsurface infrastructure.
For a free quote, please call Hunter Mitchell at (512) 417-6105 or email at hunter.mitchell@gprsinc.com.