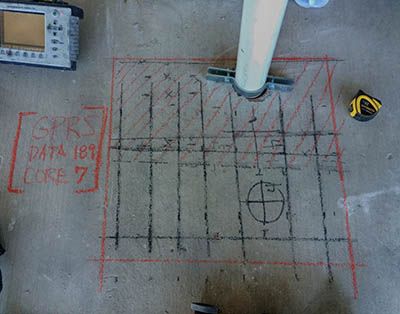 Concrete Scanning Post Tension Locating
Ground Penetrating Radar Systems (GPRS) of the Houston, TX office was called by a large plumbing company scanning for rebar/post tension cables prior to coring for new sleeves. Nate Loyola, technician on site, used GPR (Ground Penetrating Radar) penetrating through the elevated deck mapping the reinforcement in black and red crayons. Concrete scanning allows the general contractor and plumbers to know where the steel is inside the slab prior to coring.
GPR technology has no radiation and can assemble, scan and mark out in real time. GPRS of the Houston office covers College Station, Huntsville, Humble, Spring, The Woodlands, Cypress, Katy, Sugarland, Pearland, Freeport, Deer Park, and Generation Park, TX.
For more information on rebar locating, post tension cable locating, concrete scanning, or to arrange a Lunch and Learn presentation, please contact Nate Loyola – Regional Manager at (832) 262-3438. Email Nate Loyola at nate.loyola@gprsinc.com - Call before you core.