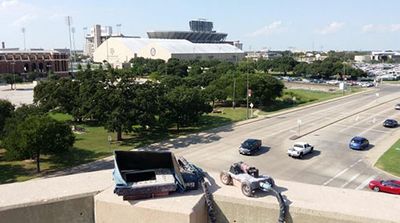 Concrete Scanning at Texas A&M
Ground Penetrating Radar Systems (GPRS) of the College Station, Texas office was called by CLR Construction to perform a concrete analysis marking out clear locations to core and drill at the TAMU parking garage. Nate Loyola, technician on site, used GPR (Ground Penetrating Radar) 1600 MHz antenna penetrating through the elevated slabs marking out the rebar, post tension and possible conduits. GPR is the safest, most accurate method for locating wire mesh, rebar, post tension/pre tension cables and conduits inside concrete slabs. With this innovative technology, GPR has zero radiation and can assemble, scan and mark out in real time. GPRS of the College Station, Texas office covers Texas A&M, Bryan, Navasota, Huntsville, and Montgomery TX.
For more information on concrete scanning or to arrange a Lunch and Learn Presentation, please contact Corey Brecht – Regional Manager at (281) 728-7025 or Nate Loyola – Project Manager at (832) 262-3438 You can also email Corey at corey.brecht@gprsinc.com or Nate at nate.loyola@gprsinc.com. Call before you core.