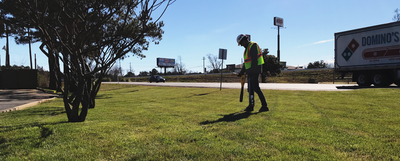 About Dallas, Texas GPRS Using Utility Locating
We have recently received an influx of major utility locate requests in Dallas, TX. Many of these have been for telecommunications companies doing directional bores to install new fiber optic cables. Others have been in the energy industry, providing utility locates at solar farms or oil refineries. Still others have been for mechanical, electrical, and plumbing contractors installing new utilities.
Whether we get a call from a customer trying to locate a single line, a request to map the utilities at an entire facility, or a call from an executive trying to set up a national contract, we have the resources to get any job done with speed and professionalism. We believe that every customer and every job deserves quality, communication, and a quick turn around. That is why we continually hire and expand our operation, pressing to keep our availability high. That is why we invest continually in new technology, and upgrade our equipment on a faster than ever replacement plan. That is why we continue to invest in our training department, and are recognized by our customers and competitors as the industry leader in GPR, utility locating, and concrete scanning.
Quality - Our success doesn't just stem from our people, although they are the best around. Our success doesn't just stem from our advanced training team, our quality control systems, and our culture of excellence, although these are all key ingredients. Our success, we believe, stems from our deep belief that our customers deserve our very best and that our work truly matters. We believe our customers will save substantial time, stress, and money, and maybe even lives with each incremental improvement we make. We don't settle for 'good enough' because we serve an industry where the stakes are high. We were recently a leading voice in our industry calling for more aggressive certifications and higher quality standards, and were one of the first utility-locating contractors in the nation to adopt the SIM (Subsurface Investigation Methodology) process on every job.
I could go on—even as I write this, we have a team investigating and testing a new piece of technology that is still pre-market, to determine whether may be utilized in the future to serve our customers better. All this is an attempt to provide the highest quality locating in our industry.
Communication – All the knowledge in the world would be no use without communication. We are only as good as our communication to our customer, and that is why we have made changes, even in the last three weeks to our communication process. First, we have upgraded our telephone system in an attempt to ensure that every customer can speak to someone on the first attempt. All calls are still answered locally because we believe customer deserve better than a call center in nowheresville, but we now have a system that allows us to capture more calls on the first attempt. Additionally, we are making a push to increase the points of contact that every customer has on every job. We want you to hear our voice, both before we come and after we leave, so that you know that your job matters to us. Finally, we are increasing our report review and bringing CAD drafting in-house, so that more eyes will speak into each of our reports and deliverable and improve the quality of our communication at every level.
Quick Turn Around – In Dallas, we have the manpower to get 4-day jobs done in a day, to get to most jobs within 48 hours, and to turn around reporting on a 3-5 day timeline. If something sneaks up on you and you need to get it done fast, just let us k now and we will find a way to work with your timetable and get the job done. I have seen my associate go above and beyond, on a regular basis, picking up extra work as needed in order to serve our customers. We are proud to do what we do, and proud of the trust that our customer place in us.
If you've got a job for our team, call Lisa at 214.218.8574 or Adam at 972.922.0223 and let us know how we can help.