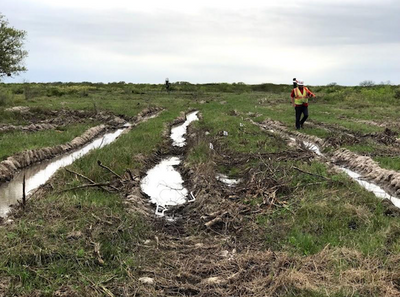 Abandoned Underground Pipelines Located at A Major Wind Energy Project in Bay City, Texas
Prior to excavating and trenching for over 100 wind turbine foundations, 17 miles of access roads and 51 miles of collection lines, a major wind energy contractor subcontracted Ground Penetrating Radar Systems, LLC to locate active and abandoned underground utilities throughout the entire project area. The contractor knew of multiple oil and gas pipelines running throughout the project and needed GPRS to confirm the known utilities and identify any unknown or abandoned utilities. After working with GPRS on dozens of other projects, they knew exactly who to call to meet their needs on this project. After mobilizing to the jobsite, the Ground Penetrating Radar Systems' team was able to locate and confirm multiple pipelines within the excavation areas on just the first day on site. While scanning one of the wind turbine foundation areas, GPRS marked an unknown buried utility that ran directly through the excavation area. This utility was not marked on any historical map nor was it known by the contractor ahead of time. Using Electromagnetic Line Locating and GPR technologies, they were also able to trace out the utility throughout the entire area of concern. Upon reaching the end of the project boundary, the utility was exposed above ground and turned out to be an abandoned gas pipeline. The contractor was able to visually see all of the findings due to the easy to interpret flagging and staking system used by GPRS to mark all their findings. After the area was scanned, the gas pipeline location was collected via GPS and exported to a daily Google Earth KMZ file for the client to use in the future, holding a convenient and precise permanent record. A post scan walkthrough was also conducted with the GPRS team and the client to explain all our findings and answer any questions the client may have. After reviewing the results, the client was grateful that GPRS was able to identify the previously unknown utility. The contractor went back to the drawing board and made an alternate wind turbine foundation location based on the findings, avoiding the buried pipeline entirely. During this process, the GPRS Project Manager on site provided clear and concise communication with the client on all site limitations and findings. Using the information provided, the client was able to make informed decisions, keeping their project on time, under budget, and most importantly, safe. Safety is top priority with GPRS; all necessary personal protective equipment ("PPE") is utilized at all time on all work on sites, and our goal is to get our team, and yours, home safely.
The above-ground is never a safe indication of what's below. Contact Ground Penetrating Radar Systems prior to any excavation, boring, sampling, or remediation projects to locate any known or unknown underground utility lines. This will help you and your team avoid costly repairs and delays to your project. Ground Penetrating Radar System uses the newest and most advanced tools in the industry. When coupled with our industry-leading proprietary training program, our Projects Managers bring unparalleled excellence to your scope of work. (Visit www.simspec.org for more information). Using a vast network of experienced Project Managers across the country, there is never a problem that GPRS is not ready to tackle. Ground Penetrating Radar Systems provides the solutions to the problems that can be experienced by any trade or contractor in the field.
Our Mission is to provide solutions to the critical problems our customers face regarding the location of hidden elements in concrete and underground
For private utility locating in Corpus Christi, TX, including Victoria, Kingsville, Harlingen, Brownsville and Rio Grande City. Give us a call at 361.424.2258 or email Joshua.Gonzales@gprsinc.com
For private utility locating in Houston, TX, including Galveston, Conroe, College Station, Lufkin, and Beaumont. Give us a call at 281.386.7160 or email Josh.Henes@gprsinc.com
For private utility locating in San Antonio, TX, including Laredo, Del Rio, Waco, Austin, and George West. Give us a call at 210.607.0361 or email Brandon.Campos@gprsinc.com
For private utility locating in Dallas, TX, including Fort Worth, Abilene, Wichita Falls, Gainesville, Texarkana, and Nacogdoches. Give us a call at 972.922.0223 or email Adam.kubicki@gprsinc.com
Not located in Texas? Don't worry. We have Expert Level Team Members located in every major city in the United States. Give us a call 1.866.914.4718 (toll-free) to get connected to Team member near you.
GPRS does not provide geophysical, geological, land surveying or engineering services. If you need such services, please contact an appropriate professional.