About Ground Penetrating Radar Systems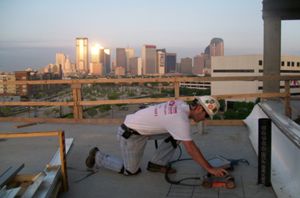 Ground Penetrating Radar Systems (GPRS) has been providing expert, professional sub-surface detection services since 2001. The company was started by Matt Aston in Toledo, Ohio, and soon expanded throughout Ohio and Michigan by 2004. The company began its national expansion effort in 2008 and now has offices in 25 cities throughout the United States.
GPRS specializes in providing ground penetrating radar services to both commercial and residential clients. We are the best at what we do because that's all we do. Our technicians are trained and experienced in using all of our high-tech equipment. They average approximately 220 jobs per year. All field personnel complete the OSHA 10-hour construction safety course to ensure all of our work spaces meet safety requirements. The professionals from GPRS have worked in some of the most high-profile job sites in the country including:
Pepsi Center – Denver, CO: Preparations for 2008 Democratic National Convention
Trump Tower – Chicago, IL: Cleared nearly 4,000 cores prior drilling
Yankee Stadium – Bronx, NY: Cleared several hundred cores prior to drilling
Blattner Energy – Sayre, OK: Cleared utilities in 68 mile trench on a wind farm.
BP Refineries, BP R&D Center – Various Locations: Numerous Projects
University of Michigan – Ann Arbor, MI: Numerous Projects
Cleveland Clinic – Cleveland, OH: Numerous Projects
Please click here to view other recent GPRS projects >
For more information about the services Ground Penetrating Radar Services offers, click here to contact one of our representatives in your area.
Click here to see a list of common Ground Penetrating Systems, LLC applications.